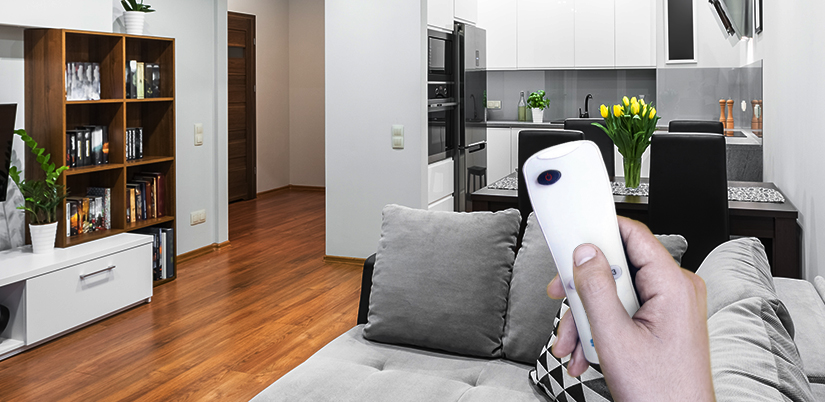 Home
>>
Blog
>>
Advices and Tips
>> Benefits of Remote-controlled Ceiling Fans
Benefits of Remote-controlled Ceiling Fans
Most households in India prefer to have an air-conditioning unit to fight the scorching summer heat. Despite their popularity, ceiling fans are still preferred as a cooling option. With increasing demands of catering to the modern sensibilities of homeowners, ceiling fans today are being upgraded in terms of design and functionality. Available in various styles, sizes, colors and designs, modern innovation includes ceiling fans with remotes and lights.
The variety of ceiling fan options today gives you the choice to match any home decor and more high-tech ones can even be integrated into a home system. Ceiling fan remote control makes your life a lot easier than you would think.
Remote-controlled ceiling fans expectedly cost a tad more but that additional expense is worth it. Let's talk about why you should opt for a fan with remote.
Accessibility:

This is the main benefit of a remote-controlled ceiling fan. It gives you the freedom to switch on/off and control the speed of your ceiling fan with minimum movement. That means you don't have to stand up and walk to access the switch every time you need to adjust its settings. The lazy aspect aside, this makes complete sense if you are installing it for someone with mobility issues like for elder people or even for children. This adds convenience and ease for them to control fans without assistance.
Integration with light fixtures:

If you wish to install ceiling fans with light

fixtures then opting for a remote-controlled one would be perfect. Generally, you would have to connect a fourth wire from your fan to the wall switch to be able to control your light fixture like turning it on and off without affecting the ceiling fan. With a remote-controlled ceiling fan, you can do away with extra electrical wires in your circuit.
One remote for multiple fans:

In homes with more than one ceiling fans

installed in a particular area like in a spacious living room, you would not want to have to adjust them one by one, every time. In such cases, a remote-controlled ceiling fan is absolutely the best option for you. You can adjust your fan configurations for each of them so that their operations can be controlled with a single remote. This eliminates the need to remember multiple switches, just to turn them on or off or control the speeds.
A remote-controlled ceiling fan may seem like a luxury but is actually a practical choice in the cases mentioned above. The accessibility and added convenience make the extra bucks worth spending. Evaluate your ceiling fan requirements in your home and choose the best ceiling fans with remote.
Get Seion fans with remote that offer numerous styles and functionality that perfectly fit your home. We also have ceiling fans with LED light and remote which consume less energy, save you money on electricity bills and help protect the environment—all while adding convenience and giving your room a truly unique look.