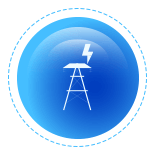 HIGH PERFORMANCE EVENAT LOW VOLTAGE
The three essential factors which increasea fan's appeal and performance are the qualityof the product, air delivery, and RPM. Voltagefluctuations are common but Seion fans aredesigned such that it does not affect theoutput, even at low voltages.
OIL-FILLEDCAPACITOR
Seion is the first and only company in India to use oil-filled capacitors in every fan model. Oil-filled capacitors ensure consistency and a long-lasting performance of the product.
ENERGY EFFICIENCY
Fans that eat more, blow less. keeping strict vigilance on the wattage consumption of our fans, we make sure that the output is extracted most at the least input.
HIGH RPM WITHOPTIMUM AIR DELIVERY
The most often question asked to judge a fan's performance is the rpm. At many times the air delivery is overlooked, which is the most crucial factor.